I saw the premiere of 1789 last night! I'm still overall unsure how I feel. I spent part of the show bored-ly peering around the room trying to spot MOR cast members in the audience (I'll do a separate post for that) and another part gaping in offended horror at the way they portrayed Marie Antoinette and Louis, and then a few parts genuinely enjoying myself. Overall I'd say the music is pretty much great, as are the costumes, but the choreography is kind of hit-or-miss (better than Dracula, maybe on par with Adam et Eve), the story is kinda all over the place, and I actually couldn't understand the vast majority of it because a) they talk fast and b) the music was usually louder than the singing, so we'll see how much I can remember.
I've learned that I'm kind of a grumpy old curmudgeon now in these MOR-less days, and since nothing has succeeded in winning my heart since the death of my show, I just assume everything sucks. My life is sad here in France. I'm basically a ghost. But soon I'll have a fresh start!
Anyway, so the show opens with a projection on a scrim (the director was NUTS over scrims, like every three minutes I was looking at one, and projections too--let me say that I HATE projections in shows because it's just mega lazy and it was the number one thing that irritated me in Adam et Eve and ALSO IN MOR. Yes, I rolled my eyes HARD at the flowers floating around during the wedding sequence because I HATE PROJECTIONS) and idk it said something about poor people and how the royals were spending all the money and taxing people to death and like, you know, French revolution stuff. Then we see what I now guess was a little country town and a revolt thingy breaks out. Prominently featured are Ronan, who I shall be calling Louis Delort from the Voice, and Solène, who I shall continue to call Nathalia. Oh but I should add that my memory says Nathalia wasn't actually fighting, just sorta hanging around the edges. I might be wrong. Anyway the battle ends in a shitload of fog and someone is dead. Based on Louis Delort from the Voice's sad posture and Nathalia singing Le cri de ma naissance, we can assume that was their parent(s) or guardian(s) that died? So they (being brother and sister) decide to go to Paris to make their fortune or something.
Things get lovely for a brief and beautiful moment as two men in crazy wigs THAT LIGHT UP come sweeping down the aisle, joining another man dressed all in hot pink who for some reason has panniers under his coat. I'm hearing the familiar "chicka chicka dow!" of my FAVORITE song and am getting hella hyped and sure enough, we see my girl Roxane's silhouette on a screen as she sings the opening verse of Je mise tout. Btw if you don't know, my girl Roxane is Marie Antoinette. I obviously have problems with Je mise tout because the lyrics imply that her husband can't get it up so she turns to parties and lovers to distract herself, which is okay for early days Marie Antoinette I GUESS but NOT for mother!Marie Antoinette. But I love the song so much because it's groovy as hell so I let that slide. Anyway, in a Roi-soleil-tastic moment, she appears in this CRAZY massive skirt that's so wide she is actually ROLLED forward onstage, and a minute later it pops open to reveal more guys in silly wigs who join the other three and she's left in a fluffy white dress. At some point during the song the fluffy white dress was replaced by a gold dress and I shit bricks because I DIDNT SEE IT HAPPEN AND DIDN'T SEE IT COMING AND IT WAS GREAT.
After the song ends we're introduced to Louis XVI, and I am NOT okay with them portraying him as a goofy fop. Okay French people, I get that y'all still don't like monarchies and shit, but can we respect that the royals were also human beings in a crappy situation? We're also introduced to his brother Artois wearing a plastic-looking black wig and being kinda evil. There was another guy onstage at this point but since I was far back and left my glasses in the US, they were all blurry and I didn't know who was who or what the hell they were establishing. Next we see Marie Antoinette's oldest son appear all done up in a back brace and the king says something about him seeming much better. The governess is the lovely Camille as Olympe, but I was instantly shocked to see her long hair hanging loose to her waist. IN THE PRESENCE OF THE QUEEN?!? I'm calling bullshit. Anyway, my girl Roxane and the lovely Camille check on some details of a thing and it's all very mysterious.
As the curtains are closing we're left with just one of the masked dancers in a white dress who's holding a massive candlestick or something. Artois approaches this person and it turns out it's not a dancer at all but YAMIN IN A DRESS. See, Yamin plays a goofy policeman/spy thing, so he's in a dress now. A very low-cut white dress. How did I not immediately spot him and his hairy chest? Anyway, he tells Yamin something which I guess was to watch the queen maybe? People complained that Yamin was too much like Rosenberg in this, but I think he was as un-Rosenbergy as possible considering he was playing a comedic political-ish bad guy role in a 18th century rock musical.
When the curtains open again there are columns everywhere and people careening about and a precious little girl in a layer-y dress and a tricorn. We were told that this is Charlotte Corday, which bothered me because why would the person who grows up to kill Marat have started out as bff with Danton? I was saying to Vincent on the way home that I was pretty sure she would have been an aristocrat and I just now wiki'd it and yep, after the death of her mother, aristocrat Charlotte Corday was sent to a convent in Caen where she grew up. I was able to wiki that in like ONE SECOND. Why oh why did they make this choice?
Anyway, a bunch of people are dancing around like THIS IS THE PALAIS ROYAL RIGHT HERE IS THE PALAIS ROYAL WHICH IS WHERE WE CURRENTLY ARE RIGHT NOW or something, and the kid is going DOO DOO DOO DOOO or whatever, and okay, it's a song. There's an interlude where a group of prostitutes in Nathalia wigs all come out and flail around for a while and then wander off and we're back to random other people. I want to point out that the kid playing Charlotte is precious (there are like four of them but I'm sure they're all equally precious) and spends like ten percent of this song leaping in and out of David Ban's arms. David Ban is my new manlove from this show because Roddy J is my boo and all but something about David Ban as Danton (I shall call him David Banton) fills my pantaloons with light.
Anyway this song finally winds the fuck down (it's a fine song I guess but I just didn't have much patience last night) and I think the next thing we see is a mini-revolutionary meeting? I might as well apologize now if I leave things out or get things out of order. Anyway it's Louis Delort from the Voice hanging out with Camille Desmoulins or, as we all know him, Roddy J. David Banton comes in with Nathalia and he's like TEEHEE I HAVE A WIFE BY DAY AND THIS LOVELEH LADY BY NIGHT oh hey btw what's your name pretty prostitute? and Louis Delort from the Voice is like HER NAME IS MY SISTER and Roddy J literally is like LOL NICE ONE DANTON. Anyway then Louis Delort from the Voice is like WUT R U DOIN SOLÈNE and Nathalia is like Whatevah how long did you even look for me after we got to Paris and he's like WEEKS and she's like WELL I'M MAKING MONEY NOW OKAY DON'T EVER TALK TO ME AGAIN HMPH and she stomps off to some columns where she belts out La nuit m'appelle like it's nobody's business. Of course she can't just sing the song because apparently Dove and Albert think their audiences have zero attention span (and I guess that's fair enough because my attention span was broken last night) because the song ends up being a bunch of lady dancers rolling around on the floor under a bunch of man dancers. Literally the dudes had to lay down ATOP the ladies and then the girls did this move that REALLY got on my nerves where they put their feet in the air and kicked them back and forth really really fast, like literally they were just flailing. I guess you can pretend that's a legit dance move?
Anyway that song gets done and we see the lovely Camille and the kid come cruising onstage followed by a ~*mysterious*~ masked lady. At one point the lovely Camille is like "this way your highness" and the kid goes "YOUR HIGHNESS? FOR REALZ?!?" and the lovely Camille is like SHHHH NO. Basically it's a romantic rendezvous??? Because apparently Marie Antoinette is now sneaking ALL THE WAY TO PARIS to meet up with... FERSEN!??????? And they're clinging to each other all OOHHHH MY LOVVVVE MY HUSBAND IS SO STUPIDDDD UGHHHHHHHHH IF ONLY WE COULD BE TOGETHER ALWAYS and I was just staring at the stage like
Because FOR REAL? Marie Antoinette is now taking a carriage ALL THE WAY INTO PARIS to meet up with Fersen (why is he not at Versailles I mean gee he and Louis and Marie are all BFF so WHAT IS THIS SHIT) in the middle of the Palais Royal which is apparently overrun by prostitutes and revolutionaries?!??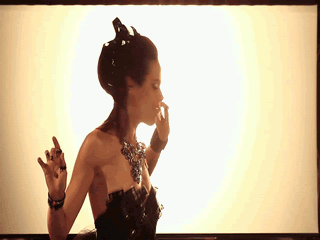 Anyway as you can see I had a concern with some of the characterization.
Well so also spy!Yamin was hiding behind a column and he busts out like GOTTA ARREST SOMEBODY NOW and my girl Roxane makes a run for it. For some reason Louis Delort from the Voice was still onstage so the lovely Camille, in an attempt to save her queen's ass, makes like Louis Delort from the Voice had been trying to steal her bag. This results in Yamin's two RIDICULOUS stooges dragging him off to the Bastille (I guess?) to be imprisoned. Yes, I can see how alledgedly attempting to take a girl's bag will land you in the Bastille.
Oh also, every time Yamin is onstage there's music that sounds suspiciously like the Mascarade music from MOR. That one long scale going down that's all "doop doop doop doop doop doop doop doop doop doop doop doo dooooooo" why did I type that out. Anyway it's 50% the same tune. Every time I heard it I jerked up like MOZART WHERE but it never was. Also again, Yamin is always seen in the presence of two idiots. One of them is basically the joker character from Dracula, like same costume and hair and everything, and he is always clowning around like an acrobat escaped from an Ouali show. Then there's a tall bald one who I guess is supposed to be the straight man in the duo? Every time I saw them onstage they offended me because I AM NOT FIVE YEARS OLD. But maybe any five year olds in the audience would have enjoyed their antics? Not sure how they would have felt about all the humping that happened in La nuit m'appelle though.
Anyway so Yamin says something along the lines of HEY THE LOVELY CAMILLE SINCE I ARRESTED THE NOT-BAG-STEALER YOU SHOULD GIVE ME A KISS and she's like lol no thanks. So that's a subplot of some kind I guess? He does get a little Rosenberg-y when he adlibs, which seems to mostly happen in scenes where he's sexually harrassing the lovely Camille.
Well so Louis Delort from the Voice gets dragged off to PRISON and music started which I thought was Maniaque and I was like YAY IT'S MANIAQUE but then it was new words and a new tune somehow? This is where Mathieu, formerly Lazare and currently Comte de something but basically sexy Javert, becomes significant. He's singing something that I would guess is like BITCH YOU ARE IN PRISON NOW HA HA HA I AM THE LAW. And then Louis Delort from the Voice comes in with something like yeah I guess I am imprisoned but dude that chick was hot when she was falsely accusing me and ruining my life. There are dancers hanging off of disembodied cell doors. The dancing in this scene was probably my least favorite because dancing on the doors looked almost exactly like the crazy people dancing on mattresses during that one Van Helsing song in Dracula about turning. Near the end of the song they finally return to the Maniaque tune I know and I get to hear a lot of "Ta cellule est dans ton cerveau" or whatever. For someone whose voice isn't strong enough to be a main character, Mathieu is ripping it up in this song. Even though he's essentially playing Javert (but with a ponytail that goes all the way down to his ass) his character is way more likeable than Ronan. I might be biased though.
Well the lovely Camille meanwhile understandably feels bad about throwing some random dude in jail, so she like, goes to the Bastille and an old guy at a desk just randomly knows her? and she's like gimme the keyyy friend and he's like Oh Olympe you so silly and then Yamin and his morons are showing up and the lovely Camille grabs the keys and runs off and the old guy is like GAH OLYMPE and Yamin and his two morons are like GAHH OLYMPPPE and then there's a nine million year long chase scene through big wall panels and stage trapdoor things and ugh. There's a big square in the middle of the stage that rises and also drops into a pit like in Le Roi Soleil. I'm not a big fan of creating a pit onstage but they did it pretty well most of the time in this show. I just feel sorry for the poor fools in the front row, because 1) they were always swallowing fog and 2) I saw during curtain call that the stage is at least five inches higher than it was for MOR so HOW CAN THEY SEE and 3) the actors are always firing guns and cannons and *I* was up in a distant corner having mild heart attacks every time.
Anyway after approximately six millenia the lovely Camille figures out that Louis Delort from the Voice is behind some door and she unlocks it and they have this exchange that's like LEAVE ME HERE TO DIE FOR MY BELIEFS I AM A MARTYR and she's like what the hell dude and he's like oh what's your name and she's like I AINT TELLIN YOU BITCH but then they run off together? Anyway they escape the Bastille (great security, guys) and that kid is back and tells Louis Delort from the Voice to go some far-off place and then when the lovely Camille shows up asking where he went the kid like discourages her from getting involved with him? And then after knowing him for all of two minutes (one and a half of which were arguing and being awful to each other) the lovely Camille sings La sentence, a heart-wrenching song about her undying love and the mess she's gotten herself into. ...right.
Anyway so then the revolutionary boyz are chillin at a printing press which I thought was a nice touch, and Louis Delort from the Voice is like UGH ROBESPIERRE YOU HOTTIE WHAT DO YOU MEAN YOU WILL PASS NEW LEGISLATION, IT'S NOT NEW LEGISLATION WE NEED IT'S A STRAIGHT-UP REVOLUTION and his countryboy wisdom gives Desmoulins, Robespierre, and Danton the idea to start a revolution which they celebrate by singing Hey Ha. Now I'm gonna say the dancing in this scene was totally engrossing because those dudes were getting up to some circus shit in the background. It reminded me of the bit in the Beauty and the Beast musical where they do that crazy shit with the beer mugs in the tavern, except with newspapers, and instead of being a dance break in a song we're allowed to otherwise pay attention to, it was happening nonstop through the whole song, meaning I could watch the human kaleidoscope in the background or pay attention to the characters and plot and acting, and obviously I didn't really have that much choice. This is why too much dance, no matter how cool it is, annoys me when I'm trying to watch a show.
I feel like there are more scenes now, but honestly it's all becoming a blur, so I'll just say that it's revealed that Marie Antoinette's son died, and in a scene that I think was really well done, we hear amazing cathedral choir music and see the queen all in black and she's just like screaming for her baby, like I half-expected Máté to pop up and be like "WEISST DU NOCH WIE WIR ERBEBTENNNNN" but sadly no.
OH CRAP I just remembered that SOMEWHERE in act one there was also a scene with the king being a moron. They brought out a GIANT throne for him to sit on and he climbed up there and was like "I'm thirsty, this is boring, wahhh" and then all the people around him became massive puppets and he was pulling the strings. Which was a cool concept but questionably executed. You'll see and judge for yourself when the DVD comes out or someone puts it on youtube. Unfortunately I can't remember WHEN this happened. It just came to me now because I was about to comment on how much more somber the king was in this scene and how it made it impossible for me to tell him apart from some other guy. I had no idea my eyesight had gotten this bad.
Anyway so the royals get their tooootally uninteresting drama offstage to make way for Young Love, as Louis Delort from the Voice (having gotten the lovely Camille's info from the kid at some point recently and apparently marched his ass ALL THE WAY TO VERSAILLES) pops up in the cathedral thingy and sings a love song to a slightly-reluctant but still lovely Camille. Actually she gets to a point where she seems pretty down with it until he starts talking about fucking up the monarchy or something and she's like THERE IS SO MUCH HATRED IN YOU D: and runs off. Bookmark that there may or may not be another scene with Yamin right here. It kinda runs together in my head.
Then the music for La rue nous appartient starts up, and remembering that seeing Mathieu and Roddy perform this in a video from a concert at a fnac once brought me to tears, I perked up. Surely *this* song would finally give me the feels that have been dead in me since Bercy! But no, the delivery of this GREAT song was somehow also bland, and honestly I can't even remember the staging or anything. I try but all I'm getting is Enjolras on a cart and I think that might be a different show about French uprisings. Anyway, that song takes us to intermission.
Act two opens with A quoi tu danses, which I think was set off by like, Louis Delort from the Voice disputing with Sexy Robespierre about something? I know this is a different song than Hey Ha but I'm not convinced. OH WAIT YEAH actually this song had girls dancing in it too, and they were dancing on chairs just like in the Je veux le monde video. Meh to the choreography and the fact that I can't remember anything about this moment.
Then it's the lovely Camille in that cool cathedral environment but she hears Yamin's voice being like "I'M THE VOICE OF YOUR CONSCIENCE AND THIS IS YOUR NIGHTMAAAAAAAARE" and it launches into this kooky dance-y sequence where Yamin and his morons annoy the lovely Camille, the stained glass window projections (LAZY) break and burst into flames, and people with chicken and raven and eagle heads dance around while a goat and a lamb stuff their faces at a buffet table. At the end the lovely Camille has been lifted on someone's shoulders and they like throw her ON HER HEAD into that stage pit, which shocked the hell out of me but I guess she didn't die cause she was in the next scene. Then Yamin resumed hollering that this was a nightmare. I thought that was funny because I remember a criticism from the avant-premier being that it was hard to tell that that was supposed to be a dream sequence, so I like that the bandaid over that was to just have someone onstage essentially scream THIS IS A DREAM SEQUENCE and then THAT WAS THE DREAM SEQUENCE. If I hadn't had that information I wouldn't have noticed, but since I did know about it it struck me as funny. It worked though.
Anyway then we see the lovely Camille who I guess had just fallen asleep on the floor? She gets up and someone is there (uh... is it Louis Delort from the Voice? I can't remember but it probably is) and she's like I just had the worst dream sequence and if I'm with you/him everything will turn to shit so it's so over.
OH BUT I SHOULD MENTION THAT DURING THE DREAM SEQUENCE YAMIN SINGS! He gets a song which will be on the CD released the day I leave France. Yay Yamin.
Okay, it's all blurring together for real now. I know that next there are two guys in I guess a bakery? and Nathalia and all the lady dancers storm the hell out of it singing Je veux le monde. They then decide to march on Versailles. The choreography is EXACTLY like the video, with the self-throat-punching and the weird belly-hitting and I just don't know. Anyway they're in the process of marching on Versailles when Louis Delort from the Voice comes charging in like SISTER WE SHOULD TALK and she's like NOOOOO GAH.
There's a scene where my girl Roxane is in the palace thing and she's like SHUT THE WINDOWS SO I DON'T HAVE TO HEAR THOSE AWFUL PEOPLE OUTSIDE and I'm like UGH YOU GUYS AREN'T YOU PAYING ATTENTION YOU DID SO WELL DURING THE MUSIC VIDEO SO WHY HAVE YOU MADE HER SUCH A DICK NOW AHKDAJFKALSJFAK;LS but anyway. Then my anger intensified NINE HUNDRED MILLION FOLD because suddenly Louis is confronting her for cheating on him?????? And they have a big fight and he storms off??????????????????????????????????? I could fill the rest of this entry with outraged question marks and it wouldn't be enough.
Okay, so I'm still a little lost on order here, but I can say that there's another scene with Yamin and his morons and his boss, Artois. Idk what even freaking happens here but it ends up being Artois and Yamin stabbing each other at the same time but it turns out Yamin just stabbed a bunch of coat and Artois actually got him. Yamin is funny in this scene too but then he DIES which I didn't exactly see coming.
I'm just gonna follow the order of the intégrale track list for a bit now. Let's assume that it's right, and that Ça ira mon amour is the next song. It's pretty much set up like ALL THE OTHER REVOLUTION YAY SONGS at first, but then for the quiet-y part (you know that part) Roddy J is at a desk and suddenly we're flashing back to Je dors sur des roses, because he's sitting there writing and TAMARA shows up in a special costume (this time it's green instead of purple) and does THE EXACT SAME DANCE behind him that she did for Mikele. I am not the only person who commented on this, btw. A bunch of girls and I all had something to say about it. I'm glad she was at least a little bit featured, but giving her the exact same dance? Really??
Okay whatever. Let me tell you about MY FAVORITE PART OF THE SHOW. It's a song I'd never heard before called "Nous ne sommes" (I know that because those were the only words I could make out over the music) and it's sung by my boy Mathieu, aka Chauvert (it's Chauvelin plus Javert okay). This is a song where I didn't mind the crazy-ass dancing at all because my boy was at the front of it spastically conducting his soldiers like a frantic conductor and maybe it was a little bit stolen from Le bien qui fait mal but it was the only time I felt a strong sense of FUCK YEAH the whole show. I loved it so much that I'm gonna embed it for you.
This is from the open rehearsal but it gets the point across. If you don't want to watch the whole thing skip to 2 minutes in.
DAMN MATHIEU. I can't decide if I'm glad he isn't playing Lazare anymore just so I would get to see that performance, or if I'm disappointing he isn't playing Lazare anymore because Ronan is so boring and unlikeable and based on this I'm sure Mathieu would have done a much better job. I mean hell I loved him just after the Ça ira mon amour video where all he did was look dreamy. Team Mathieu Carnot guys.
Anyway so you get that badass song from the soldiers and you get Ça ira mon amour from the revolutionaries so we're set for SOMETHING to happen. But pause, because first we have to get another scene I loved so much I want to stay in France and marry it for a green card.
The song is apparently called "Je vous rends mon âme", which is lovely, but basically you get Olympe sticking with Marie Antoinette. The queen tells Polignac (who by the way is apparently in this show, haha) to go escape without her, and I am pretty sure they kiss (dammit where are my glasses when i need themmmmmmm) and then the duchess runs off crying, right. So then my girl Roxane is like, aw Olympe buddy, I know why you've been so mopey lately, it must be because you have a lover. We have the same problem. And Olympe is like NUH UH and the queen is like It's okay buddy, you're lucky because I can give you what you want but it's too late for me, so go on, you're free from my service, go find him and be happy. And I'm up there punching my fist in the air because SURPRISE SYMPATHY FOR MARIE ANTOINETTE YAY! Anyway so Olympe takes off and then my girl Roxane has this great song which obviously I didn't understand the words because of sound and foreign-ness but I sure as hell want to. During the song a group of dancers in weird-ass white dresses surround her and when they move away she's left just in her shift. Then they rip her wig off to reveal shabby thin blonde hair. My girl is up there singing her heart out and she backs up from the platform she was on which drops and slowly becomes that pit I've been telling you about. There was a dress form onstage and I realized at this point that the dancers in white had put her big queen dress and wig on the dress form, so you have this amazing image of the shell of the things that made her the queen, and then this sad, broken little woman who has lost one of her children and apparently her husband is mad at her (whateverrrr) and at the end of the song she falls backward and disappears off her platform. Then there's an image of a guillotine blade falling which I think was pretty unnecessary but whatever, it's fine. Actually I would have replaced it with just a silhouette of the guillotine in the background, but that's just me HATING dumbass animated projections. I HATE THEM SO MUCH.
Okay so then there's that new single Tomber dans ses yeux where there are three or four couples already onstage dancing on little turntables and we see Louis Delort from the Voice and the lovely Camille separated by a piece of wall. Except I was sitting off to one side so I only saw Louis Delort from the Voice for a long time and finally realized the lovely Camille was onstage way later... haha. The piece of wall blocked her.
OH and also I'll go ahead and say at some point there's also a scene where Yamin's two morons are getting promoted by Artois and his evil wig, and sudddenly a big portrait (projection goddammit) comes to life in the background and it's Yamin and he's like OH YOU'RE TAKING MY JOB ARE YOU? WELL I'M STILL YOUR BOSS BITCHES! or something and it's basically 100% unnecessary and weird.
Anyway so finally these bitches take the damn Bastille. It's all achieved through FUCKING PROJECTIONS and they sing this drawn-out song about what badasses they are called Sur ma peau and they (they being basically the whole ensemble in raggedy costumes) paint dirt on their faces and then they climb these ropes up the backdrop and there's a motherfucking projection of a brick wall and it's starting to fall and then like there's fire and shit? And then they get off the ropes which get sucked back up to the ceiling and the back wall of the stage slowwwly lowers like a drawbridge, presumably leading into the Bastille, and they charge in there except there's a couple soldiers waiting and they shoot like three people including Louis Delort from the Voice. Also let me add that confetti is falling from the ceiling right now, perhaps to represent falling bricks? But it's CONFETTI.
Anyway so Louis Delort from the Voice dies in the lovely Camille's arms (she showed up from somewhere in a new costume for the first time all show) and I guess I'm supposed to care? And Nathalia is lurking nearby and she starts singing Fixe again like she did in the opening scene when her.. parent(s)?... got killed... but she's too sad, so Roddy J steps up and takes over the song. Then there's this big to-do with dancers planted in the audience reciting the Declaration of the Rights of Man and they slowly march up to the stage and everybody sings Fixe in front of a projection of the document and French flags waving and shit and that was when I noticed people charging for curtain call so I had to join them.
Except curtain call was Pour la peine, which is nice I guess, but that's ALL. They ONLY sang Pour la peine (with the kid getting the opening lines, joined gradually by everyone else). There honestly wasn't much energy in the room at all. Dove and Albert and the director came out and made speeches, and when they listed all the shows they'd done at the PDS they got to Mozart and everyone in the room started screaming (including me and I have never screamed for anything in my life) and that was basically the only time all night that there was energy in the room.
My boyfriend said he'd never seen such a lively crowd at a show, but this was his first PDS experience. I knew that it was pretty dead in there. For instance, at the premier of Adam et Eve the audience was on their feet screaming and waving cell phones for Ma bataille. There was no such enthusiasm tonight.
Maybe things will pick up (and I'm sure they will, maybe it'll be better on the weekend and stuff; I know early performances of MOR were lackluster based on the DVD) but what I saw was overall kinda meh. On a scale of 0 to 10, with 9.5 being MOR, I'd give it maybe a 7. Adam et Eve and Dracula I leave tied at 5 for opposite reasons.
Anyway, I know it's a dodgy recap but I figured I'd share with you as soon as possible because I know a lot of people are itching to know what's going on over here. Also seeing this show was the only reason I prolonged my stay in France an extra two months. Now I've gotten everything accomplished that I wanted and I'm ready to call it quits with this lovely country. I don't know yet if I want to see 1789 again. Tickets aren't cheap and my funds are pretty limited. Plus I had enough trouble sitting through it at the premier... I got antsy A LOT and actually groaned a few times when I realized act one wasn't over yet. It might have been because I knew a lot of MOR people were in the room and was eager to hunt them down, or it might have been because the show dragged a little.
My overall feeling is this: when I watched MOR, I was excited about every notion of it. At the end of the show I wanted to punch my fist in the air and take on the world. That's the show that told me to vivre à en crever and gave me the magic words "place je passe" that were my mantra during this past difficult year as an au pair. I can tell you the messages of that show in a heartbeat. It means so much.
But what did this show mean?
During curtain call at one point I realized that I was only one row of people away from the stage, and in my head the sentence "It's weird how much I don't CARE" formed. I respect everyone involved in the show and hope it sees so much success and Dove can get one of those Scrooge McDuck gold pools, but... I don't care about it very much. My PDS groupie days are over. And I'm very okay with that.
Next stop: New York City!